Last night I had a dream: I was in a play with a guy who wasn't a very nice person, and he made a comment about his car sitting across from the play venue. My dream "changed scene" and I was walking down my street and saw animal control around the car. I went to see what was going on and he had puppies and kittens in the car, neglected. I got to help rescue them and play with the beautiful red and white puppies.
When I woke up this morning, I had an urge to watch the show Animal Cops from Animal Planet. Seeing all of the abused, hurt, or neglected animals broke my heart. I did a search for shelters in my area and lo and behold, there was one in my town that was holding an adoption meet tonight! I called the shelter and left a message, and I convinced my mom to go with me. I met one of the owners (I think she was an owner, anyway) and another volunteer. Now, I am terribly allergic to cats, but they also have dogs and I just love both cats and dogs so much. I filled out an application and when my mom and I went to eat, I turned on my phone and found that I had a message from one of the women. I'm going to call tomorrow and hopefully schedule to volunteer for next week!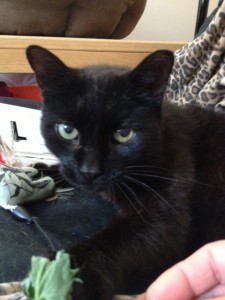 James Bond from Kitty Connection
I haven't updated on my working out recently, but I've been going through period were I can't do it for 5 or so days at a time because it's either too hot in my boyfriend's house, or I'm at someone else's house and don't want to be jumping around. I also do all of my working out inside because running...eh. Not my thing. I started a 30 day challenge with Keaira LaShea, a musician/dancer and being on day 2, it's going well so far. I thought it would be super overwhelming but it's really not! I mean, I guess I'll have to see, huh? I've been proud of myself for working out so consistently. I guess consistent is a relative word, but it's more than I ever have in the past. I'm not losing weight super fast, probably because of my diet, but I keep reminding myself that little by little is much better than all at once.
Come workout with me! Let's get healthier together :)
Peace,
Karen